NASPActs and EISJ Initiatives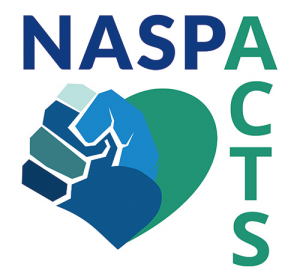 NASPActs, a key initiative of the Equity, Inclusion, and Social Justice Division, provides member-driven opportunities for social action and civic engagement during NASPA's professional development events and programs. During the 2020 Annual Conference NASPActs organizing will focus on immigration and migration.
Immigration is not a monolithic issue, and there is not just one immigration question when it comes to policy. Neither is immigration a one-community issue. NASPA's policy stances on immigration will inform opportunities for Austin 2020 and Connected Conference participants to learn and advocate.
NASPA's priorities for immigration and in particular support of undocumented individuals include:
Create a permanent pathway to citizenship for the 3.6 million qualifying undocumented immigrants, referred to often as "DREAMers"
Develop or reinstate programs that would create pathways to citizens for individuals who have resided in the United States for decades
Oppose legislation or regulatory action which includes punitive and unnecessary limitations to legal immigration, such as "public charge," or which is predicated on a false narrative of immigrant criminal activity or participation
Confront rollbacks in humanitarian asylum policies and relief for immigrant and international students fleeing personal and political violence
Increase financial assistance opportunities for immigrant students
Continue to visit this page for updates about educational, organizing, arts, and advocacy opportunities to engage with NASPA and higher education colleagues.