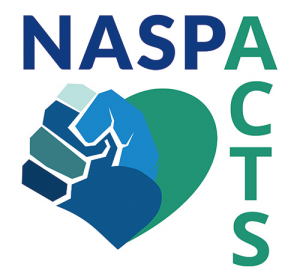 Join NASPActs Boston on April 3rd and 4th for an insightful discussion on "The Role of the Institution in Addressing Systemic Racism". NASPA, in partnership with the Kettering Foundation, published a must-have resource and its companion Moderator's Guide. This event features Diana Ali and Ke'Ana Bradley on April 3rd from 4:00 pm-4:50 pm for an in-person session, and Diana Ali and Erin Payseur Oeth on April 4th from 3:00 pm-3:50 pm for a virtual session. Don't miss out on this opportunity to learn and engage in meaningful conversation about fostering the campus community we want!
Date: Monday, April 3, 2023
Time: 4:00 – 4:50 p.m.
Location: Westin Rever
Date: Tuesday, April 4, 2023
Time: 3:00 – 4:50 p.m.
Location: Virtual Room 1
Has your institution experienced success in addressing Systemic Racism?
Visit NASPActs in the Networking Lounge on April 3rd from 12 pm- 2 pm EST where we invite you to record testimonials on effective institutional strategies that have helped address systemic racism while building community and trust.

Evelese Reyes
Student
Texas Christian University


Nadine Petty
Chief Diversity Officer
University of New Hampshire


Lu Butterfield-Ferrell
Associate Director
University of New Hampshire, Aulbani J. Beauregard Center for Equity, Justice, & Freedom


Lorenzo M. Boyd, Ph.D.
Stewart Professor of Community Policing
University of New Haven