Explore Baltimore through Authenticity, Openness and Community!
As a resident for 7 years of the "Greatest City in America," one of Baltimore's slogan – it's been great to feel, see and find why this statement becomes more and more salient in a variety of ways. Some ways include finding being one's authentic self, being open to new experiences all to be in, and creating community.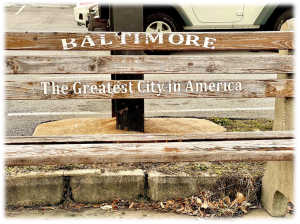 Authenticity is important as it is learned and continues to be enhanced over time. For example, when I first arrived in Baltimore, MD for my first full-time role, I was hesitant to share aspects of my identity that were salient to me yet the more I got comfortable – the more I shared – the more I was able to find more spaces and things to do in this great city. As you embark on the NASPA Annual Conference in Baltimore, think about your best self and whom might that be? How do you want to show up? Is who you present all of you and your authentic self? Tap into who you truly are as you escape to Baltimore to ensure you can engage as your best self and experience Baltimore. Prep your mind to try something new – as in Baltimore, you CAN find something old, something new to do and enjoy.
Looking around and opening one's eyes to new experiences is key as it can peek into a curiosity one might have and help you to find some charm in an experience – I say the goal of the eclectic and enticing Charm City – Baltimore, MD. Mayor Brandon Scott once said that Baltimore has some of the greatest, if not the best food you can find in the DMV area as he said "You go to Baltimore to make your stomach feel good." (Vision Chat with Mayor Brandon Scott & Farouk Dey) From small local businesses to chain restaurants, you are sure to find some good eats from Bistros to Ethiopian, Nepal, Peruvian, Soul (my favorite), Thai foods and so much more. What is also great to engage in is the wide array of entertainment opportunities through sports, bars, and lounges yet especially around the arts through music, theater, and creative arts such as galleries, museums, and art shows. Take an hour to use our friend the internet or sites like Eventbrite to find opportunities in Baltimore before, during, or after your time at the conference.
Now once I was able to continue in my journey to be my authentic self, opening my eyes to new charm, I opened myself up to the community in a new way which then exposed me to seeking out and finding awesome connections that turned into my community. From a bowling league in Harbor East to a marvel crew to game nights and nights out throughout the city. All these spaces have helped me to continue to explore Baltimore, MD in new ways with a broader scope of a community.

Why is this important you might be asking!? As you journey to Baltimore, the Baltimore Experience Committee wants you to enjoy the city that is Baltimore and see it for yourself yet this starts with a renewed mindset to then explore the greatness that is the city. So, as you begin to plan your trip, we hope that you choose to reflect on your goals, your authentic self and plan to explore the community that is Baltimore. Some ways this could occur is through the campus tours held on Sunday, March 20! Registration can be done through the NASPA Annual Conference registration. As you see these campuses, you can ponder how to explore the city more to see how you can be of the city for a few days. You can visit some awesome, local, and/or underrepresented businesses near and around campuses and/or the neighborhoods near the convention center or elsewhere. Maybe the stars will align and have you living and enjoying Baltimore daily by living here just like what happened with me after attending the NASPA Annual Conference in 2014! Either way, I have created a list of places I like to take people and/or have heard raving reviews and will continue on Twitter! This is not at all exhaustive and I highly recommend seeking other opportunities as I have not had any bad food experience in Baltimore and believe in the charm of this Charm City.

Looking forward to gathering together, healing, renewing, and reinventing ourselves with you!