Archive Spotlight: #NASPA19 Day Three Wrap Up: Leaning Collectively Into Our Future
The final full day of programming for #NASPA19 was busy from dawn to dusk. With hundreds of sessions taking place throughout the day, attendees were able to compose a custom schedule of informative professional development.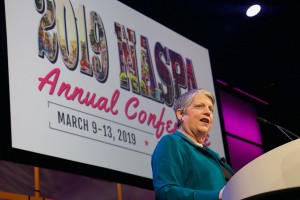 Our keynote speaker of the day was Janet Napolitano, President of the University of California. NASPA awarded her with the President's Award in recognition to her service to the profession of higher education.
With over 270,000 students striving to succeed within the UC system, Napolitano was able to offer a perspective on a wide variety of student needs. Her speech centered around what we can do as student affairs professionals to knock down barriers that stop students from utilizing their "superpowers." She was then joined onstage by conference chair, Jason Pina, for a lively Q & A where she shared her recollections of serving on Anita Hill's legal team and also confirmed, for the record, that she is NOT running for president.
The exhibit hall foyer was crowded with eager readers as the the authors of NASPA's most recent books Student Affairs Fundraising-Raising Funds to Raise the Bar, Sophie W. Penney, Barbara B. Rose, Glenn Gittings, and Associates; and Crisis, Compassion, and Resiliency in Student Affairs - Using Triage Practices to Foster Well-Being hosted book signings and presented on their publications.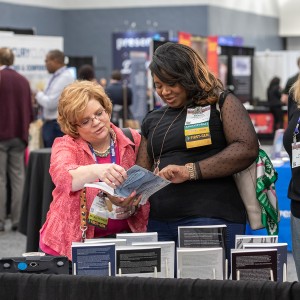 NASPActs and the Equity, Inclusion, and Social Justice Division celebrated the 2nd Annual National Student Affairs Day of Action, hosting a series of policy pop-ups focusing on Title IX, campus sexual assault response and prevention; campus accessibility; immigration and international students; inclusion for transgender and gender non-binary people; and civic engagement and freedom of expression.
Each year at the NASPA Annual Conference, our Association gathers to honor the legacies of volunteer leaders whose tireless championing of students and the profession has paved the foundation on which we build our future, including Alex Gonzalez, the winner in memorium of the Fred Turner Award for Outstanding Service to NASPA. Colleagues, mentees, mentors, family, and friend's joined together to celebrate the 2019 NASPA Annual Award winners as they accepted their awards from Board Chair Penny Rue, Past Board Chair Deb Moriarty, and NASPA President, Kevin Kruger.
Day Three at the LA Convention Center concluded with the 2019 NASPA Annual Business Meeting, where Penny Rue passed the NASPA Gavel to Board Chair Denzil Suite, vice president for student life at the University of Washington. New business included recognition of retirements, and memorial resolutions honoring Margaret "Peggy" Barr and Marybeth J. Drechsler Sharp.