Community Colleges Institute
NASPA's Community Colleges Institute (CCI) is the only pre-conference experience designed solely by and for our community college members. The CCI is your exclusive opportunity to engage with colleagues from across the country to accelerate your professional development and kick start your conference experience.
RSVP: Space is Limited
Additional registration required, RSVP required
When
Sunday, March 29
12:30 pm to 6:00 pm
Monday, March 30
8:00 am to 4:00 pm
Brought to you by:

About
In the United States, 1,200 community colleges enroll over 10 million students each year - nearly half of the nation's undergraduates. Yet, fewer than 40 % of enrolled students complete an undergraduate degree within six years. This fact has put pressure on community colleges to improve academic and career outcomes for our students. To do so, community colleges must rethink the ways in which we organize programs of study, methods of instruction, and student support services.
NASPA's Community Colleges Institute (CCI) is the best pre-conference workshop for those currently working at community colleges or for individuals interested in community colleges. A compact day and a half of learning offers attendees an enriching opportunity to network with colleagues from across the nation on critical issues that affect them.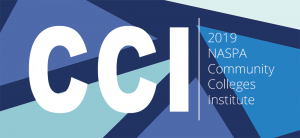 Registration
Registration for the 2019 NASPA Community Colleges Institute is now open.
Registration for the 2019 NASPA Community Colleges Institute is required in order to attend the pre-conference institute. There are two options for registering: CCI with Annual Conference Registration or registration for the CCI alone.
When you navigate to the registration page, scroll until you see a section for Special and Extended Pre-Conference Sessions wherein you will find the CCI.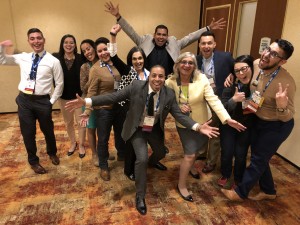 Registration Fees
Institute+ Annual Conference
Member Type
Pre


Before 6/30

Early Bird


6/31-12/18

Regular


12/19-2/8

Late


After 2/8

Member

$175

$200
$215
$230
Student/NUFP Member

$175

$200
$215
$230
Nonmember

$205

$230
$245
$260
Institute Only
Member Type
Pre


Before 6/30

Early Bird


6/31-12/18

Regular




12/19-2/8

Late


After 2/8

Member

$250

$275
$290
$305
Student/NUFP Member

$250

$275
$290
$305
Nonmember

$280

$305
$320
$335
Keynote Speaker
Dr. Mike Flores
Dr. Flores assumed chancellorship of the Alamo Colleges District on October 1, 2018. He joined the District in 1999 and has served with distinction in varied teaching and administrative roles, most recently as president of Palo Alto College from 2012 to 2018. Flores brings to his new position a strong belief in empowering students through high impact teaching and learning practices, as well as academic advising, learning communities, new student orientation, and open educational resources. He points to these as factors that encouraged him to establish new degree & certificate programs in high-growth, high-wage career areas, numerous early college high school/pre-college partnerships, the Center for Mexican American Studies, and other achievements.
Ever an advocate for continuous improvement in education programs and services, Flores utilized Baldrige criteria to help PAC gain recognition as 2015 winner of the Texas Award for Performance Excellence, 2016 nominee for the Malcolm Baldrige National Quality Award, and top 10 finalist for the 2019 Aspen Prize for Community College Excellence. Flores has gained national recognition for his efforts to increase student success – as an Achieving the Dream Coach, as a fellow with the American Council on Education and with the Hispanic Association of Colleges & Universities, for postgraduate work at the Harvard University Institute for Educational Management, and for his work with community-based organizations in San Antonio, Houston, and Chicago. He has presented at numerous national higher education conferences regarding student engagement, evaluation, and performance excellence. He currently serves as a board member for several local and regional community organizations. He has also been the recipient of numerous professional and personal awards.
The son of migrant farmworkers, Flores was born in Del Rio, Texas, and is a 1987 graduate of Holmes High School (San Antonio Northside ISD). He earned a bachelor of arts degree from the University of Texas at San Antonio, a master of science degree from Illinois State University, and a PhD in educational administration from the University of Texas at Austin. He lives in central San Antonio with his wife Martha, a talented creative director and entrepreneur, and their daughters, Mara Zoe and Mia Ximena.
Institute Tracks & Learning Outcomes
As a result of attending the Community Colleges Institute, participants will be able to:
Track A: Strategic Enrollment Management

Understand the main tenets of strategic enrollment including research, recruitment, and retention.
Analyze the importance of strategic enrollment management given current national trends; for example, reduced funding and declining enrollment.

Track B: Emergency Aid

Identify various types of emergency aid services and understand how to develop an integrated program.

Track C: Outcomes Assessment

Understand how to develop student learning outcomes and assessment plans for student affairs departments.
Articulate the ways student learning outcome data impact decision-making.
During the Institute, you will have two opportunities to engage in ideation and action planning based upon your track of interest. You can find the action planning template you'll use while on-site via this link.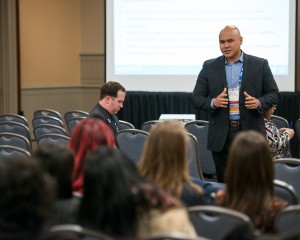 Institute Schedule
The planning committee has developed a 1.5 day schedule meant to engage and inspire action. You'll start Saturday setting the stage for the weekend, and following you'll learn from colleagues through our breakout sessions. On Sunday, you'll engage with our keynote speaker and roundtable facilitators who will be sure to motivate and inspire small group dialogue and action planning wherein you'll apply what you've heard at the Institute to your own unique campus/department. Topped off with plenty of networking opportunities, the Community Colleges Institute will provide you with motivational ideas, actionable steps, and opportunities to connect and learn from your peers.
You can download a PDF version of the program book let via the button below. You will also receive a hard copy of this information upon checking-in for the Institute.
Meet our Institute Sponsors
InsideTrack is passionate about student success. Since 2001, we have been dedicated to partnering with colleges and universities to create adaptive coaching solutions that generate measurable results. These solutions combine professional coaching, technology and data analytics to increase enrollment, completion, and career readiness. Our coaching methodologies and uCoach® Platform optimize student engagement and generate valuable insights on the student experience.
EAB helps you position your institution for long-term success. Community college presidents and their teams walk a tightrope of financial and organizational challenges, with student success and institutional stability hanging in the balance. With our Community College Executive Forum, you can expedite the implementation of new initiatives and scale best practices, resulting in improved student outcomes, future enrollments, and a financially sustainable enterprise. To ensure community college students get the return on education they expect and deserve, colleges must coordinate student care and democratize access to insight. More than 500 Student Success Collaborative members use our student success management system to help faculty, staff, advisors, and administrators provide personalized support to millions of students from enrollment to graduation.