Community Service Project
As part of your NASPA Annual Conference experience, plan ahead to give back to the local community. L.A. is an amazing place, and has lots of reasons to be thankful for living and visiting there.
As visitors of the city, we have a responsibility to take care of the city we're in—its people, animals, trees, beaches and more. If you're looking for ways to give back, volunteer during the 2019 NASPA Annual Conference. Sign-up to volunteer when you register for the conference.
For the 2019 NASPA Annual Conference there will be two community service projects that attendees can register for:
We know that by working with colleagues we can showcase our own mission as educators to help shape the future and give back to our host city! #NASPAServes
Additional registration required
When
Monday, March 30
8:00 am to 12:00 pm
Where
Registration
Los Angeles Convention Center
Project A: White Point Nature Reserve (50 Spots Available) 

We hope you will join us at the White Point Nature Reserve, part of the Palos Verdes Land Conservatory for camaraderie and service as we help enhance and protect California's open spaces. White Point Nature Preserve features restored coastal sage scrub habitat, hiking and handicap accessible trails overlooking the Pacific Ocean and Catalina Island. White Point Nature Reserve hosts many environmental education events such as Nature Preserve Walks, Education Programs for schools and the public about our threatened plants and land, as well as many volunteer opportunities.

Our meaningful project will consist of restoring the garden for wildlife habitat including the Palos Verdes Blue Butterfly and California Gnatcatcher birds. Our work will include removing invasive weeds, watering native plants, and grooming trails for the next 100 years! We will be working outdoors, and need to wear closed-toed shoes, sun protection and be sure to bring drinking water and a snack, all other tools will be provided to us at the White Point Nature Reserve.

We know our participants will develop a deeper sense of connection to the NASPA Community, Los Angeles, and the important role we play in plant and animal life preservation. Please Join Us! If you have any questions, you may email Deborah Miller-Calvert at dmiller-calvert@lbcc.edu.

Project B: Homeboy Industries (50 Spots Available)

NASPA is excited to be collaborating with nationally known Homeboy Industries who provide hope, training, and support to formerly gang-involved and previously incarcerated men and women in the community. Homeboy Industries, first began its efforts in the 1980's. In 1988 through the Dolores Mission they began the "Jobs for a Future" campaign. In 2001, Homeboy Industries came to be, and it has then become one of the largest, most holistic, and successful "gang intervention, rehabilitation and re-entry programs in the country." Homeboy Industries impacts approximately 10,000 individuals a year through their different efforts, such as: tattoo removal, workforce development, educational services, case management, legal services, mental health services, and solar panel institutional training and certification program.

We have the opportunity to work alongside the Educational Service branch of Homeboy Industries. The objectives for this community service project include: (1) provide comprehensive, holistic, and engaging workshops to homies in the areas of financial aid, re-entry services , hidden curriculum, and navigating higher education, (2) mentorship station, where potential mentors meet and engage with homies, (3) and provide tools to homies as to how shift deficit model systems while navigating higher education. In addition, Homeboy Industries has offered to provide NASPA Community Service attendees with the first ever Previously-Incarcerated student ally training workshop at the beginning of the community service day. The day is geared towards creating a high impact, community building, transformational experience for homies preparing to enter higher education. NASPA attendees will also obtain first-hand knowledge as to how to increase visibility, support, and success for previously incarcerated students navigating their institutions of higher education.

Join us and learn from the nation leading Homeboy Industries in planting the seeds of change and support for previously incarcerated students in higher education!

If you need further information, please reach out to Magdalena Muñoz at magdalenamunozperez@gmail.com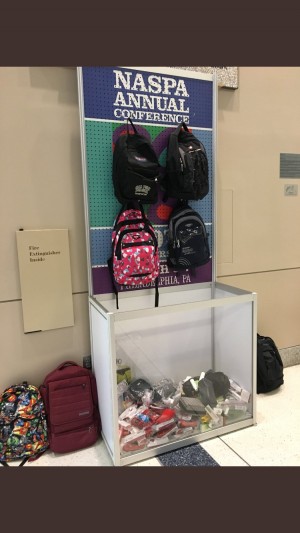 2018 NASPA Annual Conference Community Service Project Review
As part of the #NASPA18 experience attendees had the opportunity to donate to the Philadelphia community.
One project included contributing 100 backpacks with school supplies to the Paul L. Dunbar School in Philadelphia, PA. This is one way in which we honored NASPA's 100th anniversary by collecting 100 backpacks filled with school supplies from 100 individuals and institutions.
Toiletries were, also, collected for the organization Youth Services Inc. (YSI). For over 65 years, Youth Services Inc. has upheld a tradition of excellence, dedicated to meeting the changing needs of children and families in Philadelphia. Their mission is to offer accessible, quality services to at-risk children and families. They are dedicated to strengthening the family unit, helping at-risk teens and promoting child safety. They have five programs and serve close to 7,000 children and families annually.
As a non-profit, YSI relies on donations of all sorts. Participants donated to the toiletries' drive by packing extra toiletries or donating shampoo, soap, or lotion from your hotel. As well as, by contributing baby wash, wipes, and lotion for babies or soap, deodorant, shampoo, conditioner, and toothbrushes for the homeless teens.