Extended Learning Sessions
Extended learning Sessions
The Extended Learning Sessions subcommittee of the 2023 NASPA Annual Conference Leadership Committee has curated two extended sessions that take a deeper dive into important topics. Join these sessions to gain insights on the future of the profession and explore the complex topic of student activism.
The Extended Learning Session Empowering Students: Student Activism, Free Speech and Institutional Values in Ballroom East will be livestreamed as part of the NASPA Virtual Experience.
Embracing the Future: Challenges and Opportunities for Student Affairs

Monday, April 3 | 9:00 - 11:00 a.m.
BCEC 152
Moderator
Stephanie A. Gordon, Vice President for Professional Development, NASPA
Panelists
Anthony Altieri, Vice President of Student Affairs, Lynn University
Vennie Gore, Senior Vice President of Student Life & Engagement, Michigan State University
Steven Hood, Interim Vice President for Student Life, University of Alabama
So much has changed in higher education over the last 10-15 years. There has been a tsunami of technological advancements, an emphasis on embedding support services within the curriculum, a newly intensified focus on mental challenges and overall well-being, and a global pandemic causing academic disruption. This Extended Learning Session will use the transformation markers from the last decade to help peek into the future of student affairs. Panelists will explore near and long-term strategies the student affairs profession can craft to embrace the changes higher education is facing and to address the challenges of today.
Interact with a panel featuring three current VPSAs who will share present, future, and long-term strategies to support the future of the profession. Interactive roundtables for all participants will follow the panel. Many factors will be considered, including analyzing budget management and resource allocation. How will you embrace the future of the profession? Join us for this Extended Learning Session to find out.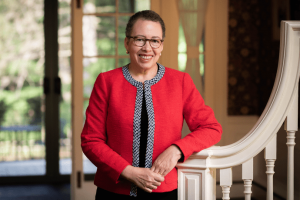 Empowering Students: Student Activism, Free Speech and Institutional Values
Keynote Speaker: Beverly Daniel Tatum

Monday, April 3 | 3:00 - 5:00 p.m.
BCEC, Ballroom East and Virtual Experience
Moderators
Ansito Walter, Professor of Public Administration, University of Guam
Manar Sabry, Senior Assistant Director of Strategic Planning, Binghamton University
Speakers
Beverly Daniel Tatum, Interim President, Mount Holyoke College
Brian Rose, Vice President for Student Affairs, Binghamton University (SUNY)
Lawrence Camacho, Dean of Enrollment Management and Student Success and Dean of Students, University of Guam
The increasing political and racial incidents across the US have reverberated across the higher education institutions nationwide. Building an inclusive campus that respects people from all backgrounds is integral to creating community, but faculty and staff cannot do this without students. In fact, only students can bring real change and it is our role to support them. However, there is often a gap between students' and university administrators' approaches to solutions. Student affairs educators can help narrow the gap between university senior administrators' perspectives and student activists' personal goals by helping students be heard.
This Extended Learning Session will offer a full understanding of student activism and deliver some effective techniques and resources in order to empower student affairs educators with the perspectives to address the students demands. By 'demystifying activism,' panelists will share stories, scholarly research, and perceptions. Tackling ways to better understand student needs, decision-making best practices to lay common ground between students and administrators.
How Student Affairs Professionals Can Counter Political Attacks on DEI: A Community Action Forum
Featuring Shaun Harper and Lori Patton Davis

Tuesday, April 4 | 10:00 a.m. - 12:00 p.m.
BCEC, Ballroom West
Moderator
Kevin Kruger, President and CEO, NASPA
Speakers
Shaun Harper, Professor, University of Southern California
Lori Patton Davis, Professor, The Ohio State University
"Diversity, Equity & Inclusion" (DEI), "critical race theory" (CRT), and a host of other concepts have been strategically framed as "anti-woke" and weaponized against the work of educators committed to enacting these democratic ideals, including those in student affairs. Although such attacks are not new, the current discourse about and efforts to legislate these ideals and perspectives is. The positioning of DEI and related concepts as "anti-woke" serves as a serious threat to learning environments across the higher education landscape.
In this session, NASPA Executive Director Kevin Kruger will facilitate a dialogue with scholars Shaun Harper and Lori Patton Davis about the current state of these attacks. Harper and Patton Davis will then engage the audience in a critical and interactive conversation about strategies and tools for student affairs leaders and professionals to maintain their work and commitment to diversity, equity and inclusion.