2020 Undergraduate Student Conference
CA 02
The NASPA Undergraduate Student Conference provides a first-hand learning opportunity for undergraduate students to gain knowledge and understanding of student affairs work, awareness of professional associations, engages participants in networking opportunities, and provides resources to assist in defining their career trajectory in student affairs.
About
Beginning as the NASPA Undergraduate Fellows Program Pre-Conference, the NASPA Undergraduate Student Conference has served undergraduate students with an interest in joining the student affairs field and bolstered the work these students are currently doing on their campuses.
Through educational sessions, small group discussions, and other development opportunities, undergraduate students will come away with a wealth of knowledge intended to better their own experiences and the experiences of their peers.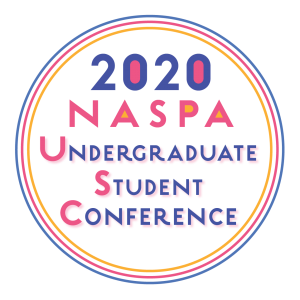 Registration
Registration for the 2020 NASPA Undergraduate Student Conference is now open.
Registration for the 2020 NASPA Undergraduate Student Conference is required in order to attend the pre-conference institute. There are two options for registering: Undergraduate Student Conference with Annual Conference Registration or registration for the Undergraduate Student Conference alone.
When you navigate to the registration page, scroll until you see a section for Special and Extended Pre-Conference Sessions wherein you will find the Undergraduate Student Conference.
Registration Fees
Undergraduate Student Conference + Annual Conference
Member Type
Early Bird


10/1-12/20

Regular


12/21-2/14

Late


After 2/15

Student/NUFP Member
$165
$180
$200
Nonmember
$175
$190
$210
Undergraduate Student Conference Only
Member Type
Early Bird


10/1-12/20

Regular




12/21-2/14

Late


After 2/15

Student/NUFP Member
$190
$205
$225
Nonmember
$200
$215
$235
Spelman Johnson Undergraduate Student Conference Scholarship
Spelman Johnson and NASPA have teamed up to offer the Spelman Johnson NASPA Undergraduate Student Conference Scholarship. This scholarship is intended to support first time attendance at NASPA's Undergraduate Student Conference prior to the Annual Conference in Austin, Texas. Any undergraduate student with an interest in higher education and student affairs is eligible to apply, including NASPA Undergraduate Fellows.

Recipients of the scholarship will receive a complimentary registration to the Undergraduate Student Conference and a $250 stipend to use for conference-related expenses. Applications for the Undergraduate Student Conference scholarship are due no later than 11:59pm local time, December 18, 2019.
Apply for the Spelman Johnson Undergraduate Student Conference Scholarship!
small group facilitatorS
As part of the Undergraduate Student Conference, attendees are placed into discussion group to allow continued conversation and reflection throughout the conference. These groups are led by student affairs professionals and graduate students who provide attendees with different perspectives and help spark important group dialogues. These small group discussions are consistently noted as some of the most memorable parts of the conference experience by attendees.
Applications for small group facilitators are now closed.
Conference Themes & Learning Outcomes
As a result of attending the Undergraduate Student Conference, participants will be able to:
Develop meaningful relationships with undergraduate peers, student affairs professionals, and faculty to build their network of connections.
Learn a variety of pathways to begin and progress through a career in higher education and student affairs.
Enhance understanding of the context of higher education in the United States- what has led to the contemporary issues and concerns of our field?
Reflect on one's identity and develop a preliminary understanding of the role that the higher education community plays in building equitable and socially just spaces.
Sponsorships
Special Thanks to our 2020 Conference Sponsors! For more information about sponsorship and exhibit opportunities, please contact Fred Comparato, Senior Director of Corporate Development, at fcomparato@naspa.org.
Planning Committee Roster
Viraj Patel
2020 Undergraduate Student Conference Chair
Viraj Patel is a social justice advocate, educator, and dialogue facilitator as well as an active blogger, consultant, and engaged community member. Born and raised in Downers Grove, IL, Viraj completed her Bachelor of Arts degree at the University of Illinois at Urbana-Champaign in English with a minor in Asian American Studies and then went on to earn her Master of Education at the University of Vermont. Her paid labor is serving as the Dean of Harnwell College House at the University of Pennyslvania. She is also a doctoral student and is studying motivational factors for AAPI student activists. In her free time, Viraj is probably watching the latest Bollywood movie, cooking a fun new recipe, dancing, running, checking out an exhibit at a museum, or reading at a coffee shop. She is extremely excited to serve as the NASPA Undergraduate Student Conference, having attended herself as a senior in college 10 years ago!

---
Jimmy Doan
2020 Undergraduate Student Conference Past Chair
Jimmy Doan is an Assistant Dean in Student Support & Wellbeing at the Massachusetts Institute of Technology. In his role on the CARE Team, Jimmy provides non-clinical support for critical students. Jimmy is also responsible for coordinating education and outreach efforts to train faculty, staff, and students on supporting students in distress. He has previously worked in residence life, student activities, and multicultural student programs. Jimmy graduated from the College of the Holy Cross with a B.A. in Economics and the University of Vermont with a M.Ed. in Higher Education & Student Affairs Administration.

---
Sophie Braga de Barros
Educational Sessions Subcommittee
Sophie Braga de Barros currently serves as the Student Engagement Program Coordinator at Florida International University, where she works to connect students to different engagement opportunities on campus. A native of Sao Paulo, Brazil, she moved to the U.S. to pursue her undergraduate education at the University of Miami, where she discovered her passion for Student Affairs and began her involvement with NASPA through the NUFP program. Sophie then moved on to pursue her Master's degree in Higher Education and Student Affairs from The Ohio State University. Her favorite NASPA memories are participating in the Dungy Leadership Institute the summer before graduate school and meeting Justice Sonia Sotomayor at the 2018 national conference in Philly.

---
Shawn Chatmon
Small Group Facilitation Subcommittee
---
Roman Christiaens
Small Group Facilitation Subcommittee
Roman Christiaens serves as the Assistant Director for Learning and Development in the Spectrum Center at the University of Michigan. Their current responsibilities include supporting the needs of transgender and non-binary students and facilitating workshops on LGBTQ+ inclusion and advocacy. Roman's professional background includes first generation student support, orientation and transition programs, campus involvement, social justice education and community engagement. Born and raised in a rural, working class community in Montana, Roman obtained their Bachelor's of English with a focus on Creative Writing from Seattle University and a Master of Education from the University of Vermont with a focus in Higher Education and Student Affairs Administration. Roman was accepted into the NUFP during their junior and senior years at Seattle University, attended the 2011 Student Leadership Institute and participated as a NUFP summer intern at Slippery Rock University in 2010. Roman is also an alumnus of the Social Justice Training and recently served as a core group facilitator for the Student Social Justice Training Institute (SSJTI) at the University of Cincinnati.

---
Andrew Erdmann
Assessment and Technology Subcommittee Chair
Andrew Erdmann serves as an Assistant Dean of Students at Saint Louis University (SLU). Prior to his role at SLU, Andrew worked at Georgetown University, where he served as an Associate Director of Residential Education in the Office of Residential Living, overseeing two upper-class communities, as well as residential conduct and engaged learning work. Andrew is a proud Wisconsin Badger, where he earned both his undergraduate and graduate degrees.

---
Jason Fitzer
Educational Sessions Subcommittee Chair
Dr. Jason Fitzer currently serves as Associate Director of Student Involvement at University of the Pacific, overseeing Fraternity & Sorority Life, Student Organizations, and Student Government. Dr. Fitzer graduated from California State University, Chico with a Bachelor's in Business Administration and earned a Master's degree student affairs and a Ph.D. in Counseling and Student Personnel Services, both from the University of Georgia. In addition to involvement with NASPA, Dr. Fitzer is also involved with AFA - Association of Fraternity/Sorority Advisors.

---
Daniel Hoddinott
Marketing, Recruitment, and Registration Subcommittee
Daniel Hoddinott is the Assistant Director for the Asian & Asian American Center at Cornell University. He received his B.A. in Human Resource Management from Rutgers University and M.S. in Higher Education from Syracuse University. Daniel previously worked in Housing and Dining at the University of Texas at Austin. Within his role at Cornell, he oversees the development of innovative co-curricular programming, leads a team of undergraduate and graduate interns, develops campus collaborations, and works with the Cornell Asian Alumni Association (CAAA).

---
Amber Hurt
Small Group Facilitation Subcommittee Chair
Amber is currently a Resident Director at Hofstra University. Amber received a Bachelor's degree in Psychology from SUNY Old Westbury and a Master's degree in Higher Education and Leadership Policy Studies from Hofstra University. While at Old Westbury Amber was a Resident Assistant, Orientation Leader, SGA Senator, NASPA Undergraduate Fellow (NUFP) and much more. During her time at Hofstra she was an Assistant Resident Director. Amber spent time working at Florida International University before returning to Hofstra. In her free time Amber likes to travel, read, and go to brunch. Follow her adventures on Instagram: @theadultingqueen

---
Jesus Olivo
Marketing, Recruitment, and Registration Subcommittee
Hello! My name is Jesus Olivo and I currently work at Texas State University as a Residence Hall Director! As a first-generation college graduate, I strive to provide an inclusive and supportive space within residence life so every student can learn about embracing their intersecting identities and empower students to share their narrative and experiences and not be restricted by barriers they might face. I am passionate about leadership development, large scale programming, diversity and inclusion but most important I am in student affairs to challenge the narrative of Latinx individuals experiencing college from "no puede to si se pudo!"

---
Morgan Russell
Educational Sessions Subcommittee
Morgan has been a student affairs professional for the last six years and has loved every minute of it. She has held positions in the offices of first year experience, academic advisement, testing services, student success, and most recently Associate Director of Multicultural Affairs and Disability Services. Dr. Russell is an advocate for accessible education for students with disabilities and fostering belonging among minority students and students of color. She believes in the power of equity for both groups and has made those areas her purpose within student affairs.

---
Shishei Tsang
Assessment and Technology Subcommittee
Shishei Tsang serves as the Program Coordinator for Student Engagement at Chapman University, with a focus on Cross-Cultural Center and Civic Engagement initiatives. Shishei's areas of oversight include: Common Ground pre-orientation program, We CU Mentoring Program, We Are Chapman Retreat (planning committee), social justice education, civic engagement, diversity/cultural and religious/spiritual student organizations support, Heritage Months coordination, and political engagement. As an active NASPA member since 2015, Shishei was the Region V Oregon APIKC Representative, a GAP Associate and a NUFP fellow.

---
S. Gavin Weiser
Educational Sessions Subcommittee
S. Gavin Weiser is an assistant professor in the Department of Educational Administration and Foundations and co-coordinator of the College Student Personnel Administration master's program. Prior to serving on the faculty at Illinois State University, Gavin earned hir Ph.D. in Foundations of Education & Inquiry as well as a graduate certificate in Women's and Gender Studies at the University of South Carolina. Hir research interests involve embodied affect and emotions within queered subjectivities and the leveraging of affect as activism. Gavin is also interested in the intersections of queer theory and education, and how we can continue to challenge the notions of education to create a more radically inclusive space for learning. In addition to hir academic work, Gavin worked for several years as a university administrator in the Office of Multicultural Student Affairs at Carolina focusing on social justice and diversity work. Prior to this Gavin was an outdoor educator for Princeton University, leading urban youth on backpacking and other outdoor adventure activities.

---
Jazminn Williams
Marketing, Recruitment, and Registration Subcommittee Chair
Jazminn Williams is in her second year as a Resident Director at Tulane University. She holds an M.Ed. in Higher Education from Loyola University Chicago and a BSW from Florida Gulf Coast University. Her primary responsibilities include advising residential leadership organizations, supervising Resident Advisors, and ensuring Tulanians have a positive residential experience. During her undergraduate experience, Jazminn was a NUFP Fellow where she crystalized her passion for student affairs at Washington University in St. Louis. With experience in Fraternity and Sorority Life, Student Leadership, Academic Success, First-Year/Transfer Orientation and Civic Engagement, Jazminn has gained experience working with colleagues and students who hold a variety of identities.

---
2019 Undergraduate Student Conference Information
Undergraduate Student Conference Attendees
185+