The MY NASPA app is the key to meeting your conference goals
We encourage all attendees to use the MY NASPA app as your guide to the Conference, as it will offer the most real-time information and live updates to keep you in the know throughout the event.
DOWNLOAD & JOIN
Download the My NASPA app from your device's app store. Once it's installed, select Sign Up and create your profile. The information in your profile is only used to connect you with other NASPA attendees.

Next, search for the 2019 NASPA Annual Conference event and click Join Now, then enter the passphrase #NASPA19. The passphrase is case-sensitive.
If you don't have a compatible Apple or Android device, you can view the same app on the web.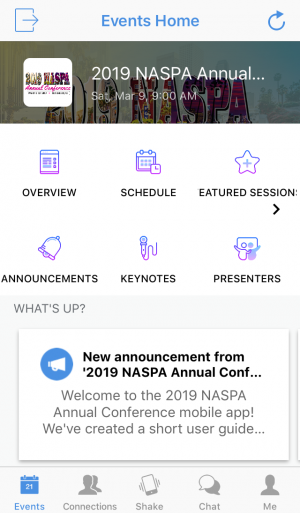 The Home Screen includes the main menu of the event where we feature the most important information for the conference. The What's Up section will provide information on any updates, new additions to the conference, and attendees you may want to connect with.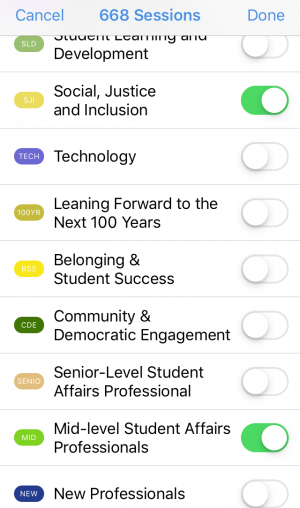 VIEW & FILTER THE SCHEDULE
Click on the Schedule icon to begin adding sessions and events to your personal schedule. Using the filter feature, you can browse sessions and events by professional competency, professional level, or core content. The filter allows you to select multiple options at once. To the left is an example that would allow you to browse sessions that focus on the social justice and inclusion competency or are appropriate for mid-level professionals.
BUILD YOUR SCHEDULE
Click the + plus sign to add a session or event to your personal agenda. There are a lot of sessions to choose from and every year our attendees tell us that they wish they had spent more time planning before they arrived—so book some time with yourself and the My NASPA app. You won't regret it!