Help us make the 2023 NASPA Annual Conference a huge success by serving your association as a volunteer!
Each year, the NASPA Annual Conference runs on the hard work and dedication of the hundreds of individuals who volunteer their time and energy. As we plan programs and activities for both Boston and the NASPA Virtual Experience, the Conference Leadership Committee is thinking about where we will need YOUR help!
The volunteer sign-up form will open later this year! Start thinking about your conference experience and where you might like to engage in volunteer opportunities, meet new colleagues, and help out behind the scenes of the NASPA Annual Conference!
Volunteer Opportunities
While we work on identifying specific volunteer opportunities for 2023, here are examples of some opportunities from 2022. Most onsite and virtual shifts are two to three hours long, with training provided.
ONsite VOLUNTEERS

Registration Desk Support
General Session Greeter and Seating Assistance
Extended Learning Sessions
Engagement Lounge Greeter
Special Events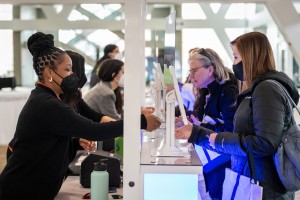 VIRTUAL VOLUNTEERS

Virtual Room Host/Live Q&A Support
Discord Moderator/Facilitator